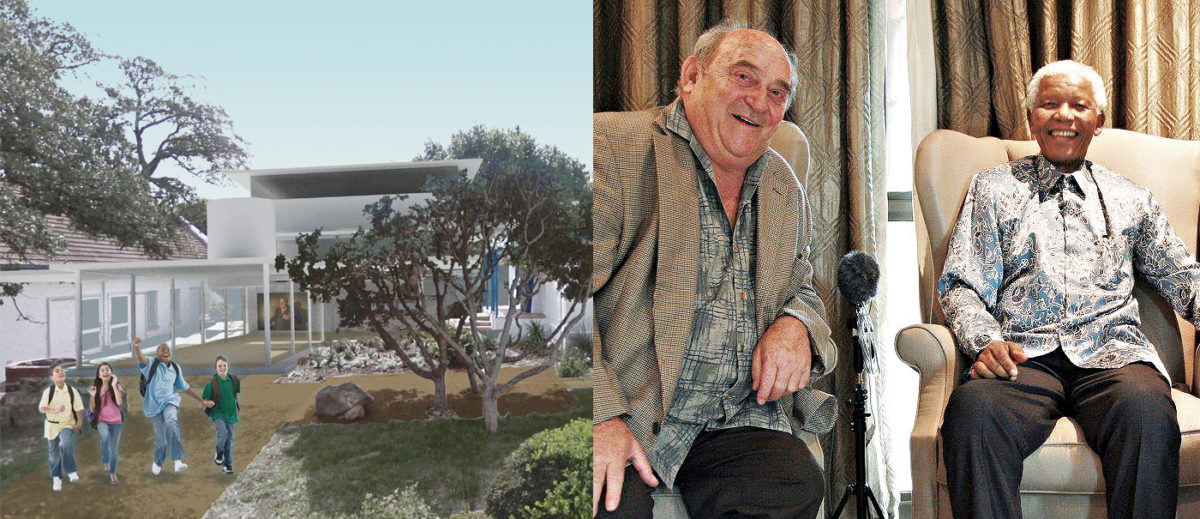 Denis Goldberg's dream is to have an arts and culture education centre in Hout Bay, Cape Town where he lives. As he explains: "It is a vision that combines the passions of my life: the creation of cohesive, non-racial and non-prejudiced communities, the realisation of young people's potential and a celebration of creativity and expression…. Creating a beautiful space for this to happen, where young people can develop those vital creative and expressive skills will be my lasting contribution to the future of Hout Bay, which has been my home for so long." Denis continues to engage actively in our initiatives where his health and energy allow him to.
We have been given a 99-year lease of part of the existing Hout Bay Museum site and have already raised the funds needed for phase 1 of the Denis Goldberg House of Hope. We expect this phase to be completed in early 2020. We want to thank all who have helped us to reach this milestone.
Phase 1 consists of a gallery to house the exhibition on Denis's life as well as his art collection; a small office; an activity room; toilets; and a covered entrance and walkway with seats where young people can spend time together
Meanwhile we are fundraising for phase 2 of the construction which will have a much larger number of activity rooms which we and other organisations will use for activities for young people
Phase 2a consists of a double-storey row of activity rooms which we and other organisations will use for activities for young people – and which young people themselves can use for their own activities.
Phase 2b is a second double-storey row of activity rooms, parallel to the first, but at some distance.
Phase 2c will create an auditorium by placing a roof across the two rows of activity rooms.
A combination of small and large amounts of money helped us fund Phase 1. We need your generosity to expand space for activities to happen and ask that you please show your continued support for Denis's dream and vision.
All donations made to the DGLFT are exempt from donations tax and qualify for deductions from taxable income in accordance with the Income Tax Act (58 of 1962). If you make a donation we can provide you with a Section 18A tax certificate enabling you to claim a tax benefit from personal or corporate taxable income.
Your transaction is secured by PayFast. PayFast is trusted by the likes of Adidas, Jaguar and Superbalist to name but a few.
Donate your own amount
If you wish to know more about the Denis Goldberg House of Hope activities, click here. You can also sign up for our quarterly newsletter on that page.
If you are a supporter of the Woolworths MySchool MyVillage scheme, add the Denis Goldberg House of Hope as your second or third beneficiary.
Or sign up here and support the House of Hope every time you shop at Woolworths with the MySchool MyVillage MyPlanet scheme, making Denis Goldberg House of Hope a beneficiary.
If you prefer, we also have a customised form which you can use here